Current PR Work
G. Sterling Zinsmeyer, developer of acclaimed opera Fellow Travelers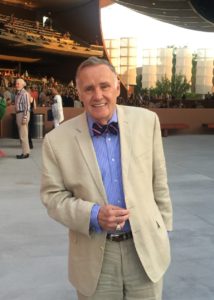 G. Sterling Zinsmeyer was just named to the New York Times heralded end-of-year list for The Best Classical Music of 2016. Zinsmeyer, who conceived and developed the opera Fellow Travelers based on the book by Thomas Mallon, is a visionary and film producer who now lives in Santa Fe.
Fellow Travelers premiered earlier this year as part of the Cincinnati Opera's 2016 season and received rave reviews from press, including such influential outlets as the New York Times, the Wall Street Journal, the Chicago Tribune, NPR Weekend Edition and Opera News.  The opera, a touching gay love story set in the McCarthy Era, received prolonged standing ovations at every one of the ten sold-out Cincinnati Opera performances.
---
PR Magic Testimonials
Alacarte Jewelry Recommendation
Poster Fairs International Recommendation
---
PR Case Studies
Case studies are available to demonstrate client results after working with PR Magic. These studies will show background, actions taken, and end results.
Pacific Orchid Exposition (PDF)